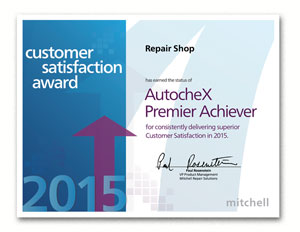 Congratulations on your outstanding accomplishment! Mitchell is proud to sponsor the annual AutocheX Premier Achiever Award (PAA) program to recognize collision repair facilities that achieve extraordinary customer satisfaction ratings. This honor brings industry recognition that sets your organization apart.

In recognition of your award, Mitchell will send you the 2015 Premier Achiever certificate and also help you publicize your great accomplishment as an AutocheX Premier Achiever! You'll also have access to an exclusive Premier Achiever Award website where you'll find a collection of materials and resources to help you leverage this prestigious national award in your marketing efforts.

Register now to:

Accept your award
Confirm or update your shipping address
(we ship via FedEx—no P.O. Boxes, please)
Give Mitchell permission to publish your shop name in the list of 2015 winners
At the close of the registration period, Mitchell will ship your certificate and send you a link to the Premier Achiever Award website.

If you have any questions, please feel free to contact the
Mitchell AutocheX team at AutocheX.CSI.Award@mitchell.com.